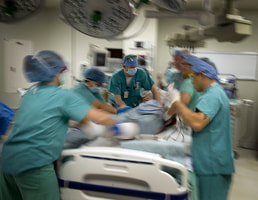 Pediatric Advanced Life Support
The American Heart Association's PALS Course is an Instructor-led,
classroom-based course that enhances healthcare providers' skills in the treatment of pediatric arrest and periarrest patients. The goal of the PALS Course is to improve the quality of care provided to seriously ill or injured children, resulting in improved outcomes.
The course uses a series of simulated pediatric emergencies to teach and reinforce the important concepts of a systematic approach to pediatric assessment, basic life support, PALS treatment algorithms, effective resuscitation and team dynamics.
Course Covers
Key changes in pediatric advanced life support, reflecting the new science from the 2010 American Heart Association Guidelines for Cardiopulmonary Resuscitation and Emergency Cardiovascular Care


1- and 2-rescuer child CPR and AED use


1- and 2-rescuer infant CPR


Management of respiratory emergencies


Rhythm disturbances and electrical therapy


Vascular access


Resuscitation team concept


Cardiac, respiratory and shock case discussions and simulations


Systematic Approach to Pediatric Assessment
Primary Audience
The PALS Course is for healthcare providers who respond to emergencies in infants and children. These include personnel in emergency response, emergency medicine, intensive care and critical care units, such as physicians, nurses, paramedics and others who need a PALS course completion card for job or other requirements.
---
Reference Materials
The following are quick references materials. Please click on the desired algorithm or file to expand or download.


Highlights of the 2015 AHA Guidelines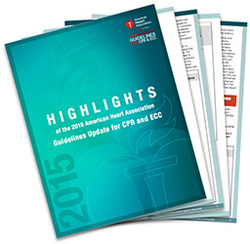 ---
Pediatric BLS Algorithm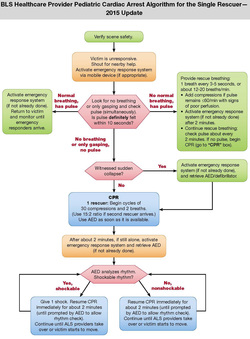 (American Heart Association, 2015)
---
---

​Pediatric Pulseless Arrest Algorithm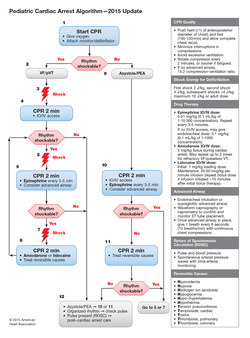 (American Heart Association, 2015)
---
Pediatric Bradycardia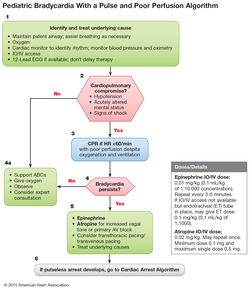 (American Heart Association, 2015)
---

​Pediatric Tachycardia with Poor Perfusion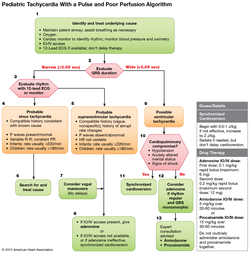 (American Heart Association, 2015)
Where to get the Textbooks
PHONE: 800-611-6083 | aha.channing-bete.com
LAERDAL MEDICAL CORPORATION
PHONE: 888-562-4242 | laerdal.com
PHONE: 888-322-8350 | eworldpoint.com
The American Heart Association strongly promotes knowledge and proficiency in all AHA courses and has developed instructional materials for this purpose. Use of these materials in an educational course does not represent course sponsorship by the AHA . Any fees charged for such a course, except for a portion of fees needed for AHA course materials, do not represent income to the AHA .
​
---